Posted By: The Reporter November 4, 2022
September 19, 1977 – October 30, 2022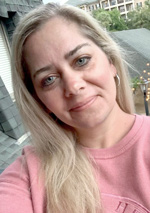 Natasha D. Reynolds-Blankenship, 45, Indianapolis, passed away on Sunday, October 30, 2022, at Community Hospital South in Indianapolis. She was born, along with her twin brother, Travis, on September 19, 1977, to Roy and Julia (Morris) Reynolds in Indianapolis.
Natasha graduated from Ben Davis High School in 1995, received a degree in Business Management from Indiana Wesleyan University in 2014, graduated from Project Management Institute in 2013 as a Project Management Professional, and became a Professional SCRUM Master in 2021. She loved her family and riding Harley Davidson motorcycles.
Natasha is survived by her husband, Larry Blankenship; parents, Roy and Julia Reynolds; children, LaRen A. Wilford, Makahla R. Shelby, and Jacob Boswell; stepchildren, Lamont Wilford Jr., Shaunte Hatchett, Lindsay Blankenship, and Ronnie Blankenship; grandchildren, Sam Boswell and LaVon Wilford; siblings, Tony (Beverly) Reynolds, Mikki (David) Forsyth, and Julie (Patrick) Allen; her twin brother, Travis Reynolds; and several nieces and nephews.
She was preceded in death by her son, LaMar A. Wilford.
Visitation will be from 1 to 6 p.m. on Sunday, November 6, 2022, at Randall & Roberts Funeral Center, 1685 Westfield Road, Noblesville. An additional visitation will be held from 10 to 11 a.m., with funeral services at 11 a.m., on Monday, November 7, 2022, at the funeral home. Burial will be at Crownland Cemetery in Noblesville.
Memorial contributions may be made to Asthma and Allergy Foundation of America, P.O. Box 424053, Washington, D.C. 20042-4053 (aafa.org).
Condolences: randallroberts.com
Your email address will not be published.


*

*





This site uses Akismet to reduce spam. Learn how your comment data is processed.


Sports
Sports
Sports
Sports
Sports
Sports
Sports
Sports
Opinion
Opinion
Opinion
Opinion
Opinion
News, Opinion
Opinion
Opinion
Obituaries
Obituaries
Obituaries
Obituaries
Obituaries
Obituaries
Obituaries
Obituaries
Copyright 2017-2022 | ReadTheReporter.com
Hire me on the World's Leading Online Marketplace Freelancer.com to design your website. Additional services like- graphic design, virtual assistance, SEO, Data entry, etc are available. Click on This Link to start your project